Dr. Murtaza Hameed D.C.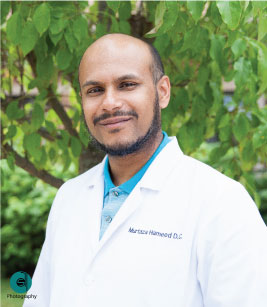 Specialties
Chiropractic
Acupuncture
Cupping
Gua Sha
Education
UMBC Baltimore, Maryland – 2001 B.S. in Biological Sciences
NUHS Lombard, Illinois – 2005 Doctor of Chiropractic
Dr. Murtaza Hameed was born and raised in Nairobi, Kenya. He finished high school in Nairobi with a certification in both London GCE O' and A' Levels. Upon completion of high school he spent his first two years of post secondary education at the University of Toronto Scarborough, Canada and finished his undergraduate Bachelor of Science degree in Biological Sciences at the University of Maryland, Baltimore County, Baltimore Maryland.
He then moved to Illinois to attend Chiropractic school at the National University of Health Sciences (NUHS), Lombard, Illinois. He completed his certification in Acupuncture in February of 2005 from the International Academy of Medical Acupuncture.
He graduated from NUHS in December of 2005 with a degree in Doctor of Chiropractic. Dr. Hameed has been practicing Chiropractic and Acupuncture since June 2006. He is certified in fitting for custom made foot orthotics with Sole Supports, cosmetic acupuncture and is a FMCSA medical provider for DOT physicals. He is an active member of the Illinois Chiropractic Society.
Dr. Hameed of Arwa Chiropractic of Aurora, IL has focused his practice on helping individuals and families on how to achieve their highest health potential.
While in practice, he has helped patients in and around the Aurora community become pain free, healthier and as a result help change their lives for the better. Dr. Hameed of Aurora, IL has delivered over the years countless adjustments on individuals ranging from children merely hours old to adults over 90 years old.